Plantation Shutters Cost Calculator
Get A Quick Quote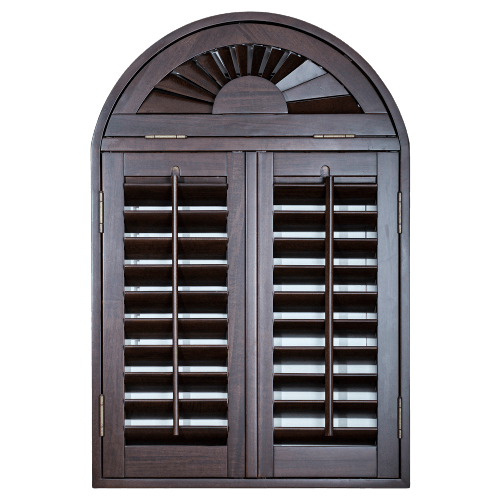 Basswood shutters are one type of wood shutter that is especially popular, due to its several benefits. Basswood has a closed-grain structure, meaning that it produces less sap. This makes it easier to apply primer and stains to the wood. Additionally, the slow growth rate of basswood trees results in straighter lumber with fewer cracks, making it a superior choice to other types of wood for shutter construction.
Basswood is an excellent choice for woodworking projects because it is strong and durable. It is also resistant to warping and heat, making it ideal for use in areas where other timber shutters would be damaged. This versatile wood can also be used for food containers, surfboards, and other custom projects.
Key Features
Basswood is an excellent material for construction due to its many positive attributes;

It has a fine, uniform texture and an indistinct grain that makes it easy to customize to your needs;

Basswood is also lightweight without compromising on strength, and it is very durable with no risk of warping.
You can calculate the Basswood plantation shutters cost using our instant quote calculator below.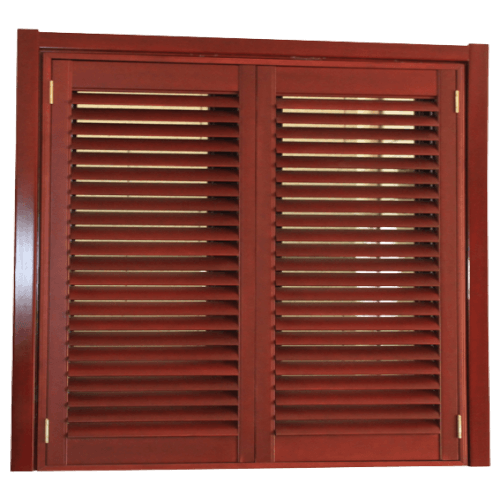 Paulownia shutters are treated with UV stabilizing paint, which helps to protect them from damage caused by direct sunlight. The shutter is available in two different styles: the mono closure, which is painted in a solid color like our Basswood and PVC shutters, and the dual closure, which features a 'Rustic' finish that is similar to a whitewash.
Because Paulownia has a more open grain than eighter Basswood or Cedar, the grain is visible in the paint finish of the Mono shutter and can be seen in the 'Rustic' finish as well. Plus, our environmentally friendly paint system gives you peace of mind.
Key Features
Paulownia wood is a beautiful, lightweight hardwood that is perfect for crafting shutters and windows;
Paulownia's price tag is comparable to that of MDF, making it a budget-friendly option for your home improvement projects;
It is strong and durable, yet easy to work with, making it an ideal choice for both amateur and professional woodworkers.
You can calculate the Paulownia plantation shutters cost using our instant quote calculator below.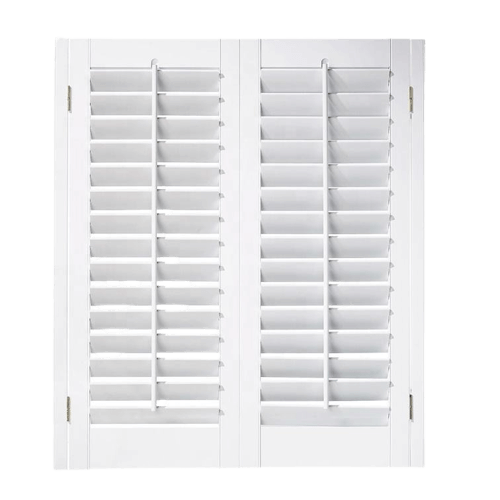 Solid PVC plantation shutters are a type of window shutter made from Polyvinyl Chloride material. They are filled with materials such as wood floors or air (cellular) to give them strength and make them more durable than hollow vinyl shutters. And we have inset aluminum cores throughout the entire shutters to make sure the product lasts for a longer lifetime.
Affordable, classic-look shutters made from durable Vinyl are ideal for high-traffic or moisture-prone areas of the home, like the bathroom or kitchen, as they are very durable and resistant to warping from exposure to sunlight.
Key Features
PVC shutters offer a great combination of price and quality, offering the same elegance and practicality as real wood shutters;
They are also sturdy and perfect for areas of the house that experience high levels of moisture and heat, such as the bathroom, kitchen, or patio;
They are very easy to clean – simply wipe them down with a duster or damp cloth and they will look like new again.
You can calculate the PVC plantation shutters cost using our instant quote calculator below.